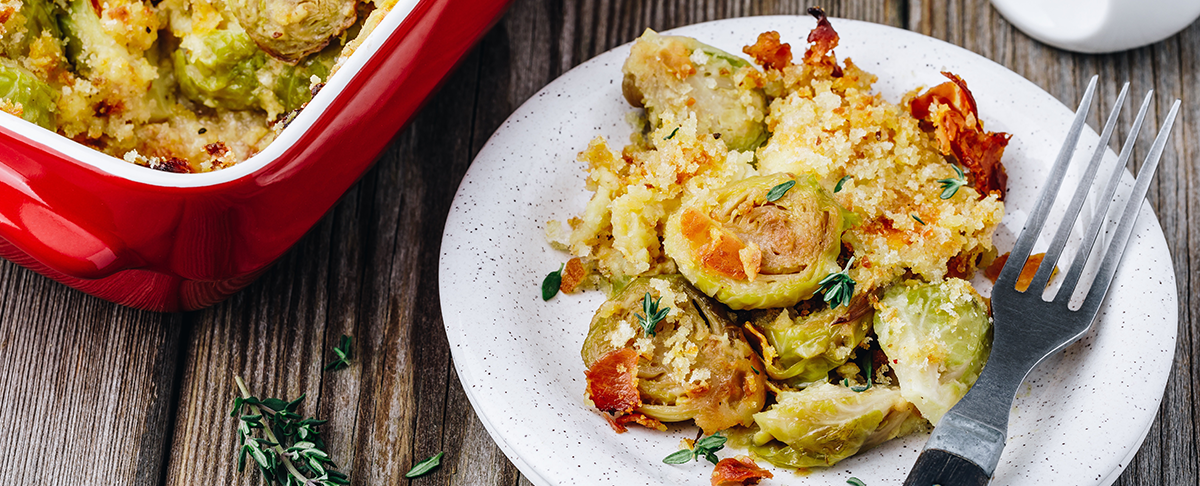 RECIPE: Brussels Sprouts Bacon au Gratin
Here's a delicious (and very sharable) recipe just in time for Thanksgiving! Filled with creamy, cheesy goodness — and plenty of bacon! — this recipe is a holiday favorite, and we hope it will become one of yours, too. May your celebration with loved ones be that much warmer and more special. Enjoy!
2 Tbsp. olive oil
1 lb. brussels sprouts, cleaned, trimmed, cut in half
1/2 lb. bacon, cut into 1/2-inch pieces
Salt and ground black pepper to taste
1/2 c heavy cream
1/4 c Italian seasoned breadcrumbs
1/2 c grated Parmesan cheese (more if you'd like)
1 tsp. garlic (more if you'd like)
Preheat oven to 350 degrees. Lightly grease a casserole dish.
Toss Brussels sprouts in olive oil, salt, pepper and garlic. Spread onto baking sheet and bake for about 20 minutes. They should be crispy on the edges and soft inside.
Place the bacon in a large skillet, and cook over medium heat, turning occasionally, until crisp and browned. When finished, drain grease.
Stir in the Brussels sprouts, heavy cream, breadcrumbs, cheese and more salt and pepper. Transfer to casserole dish. Sprinkle additional cheese on top.
Bake in the preheated oven until golden brown on top and heated through, 20 to 25 minutes.