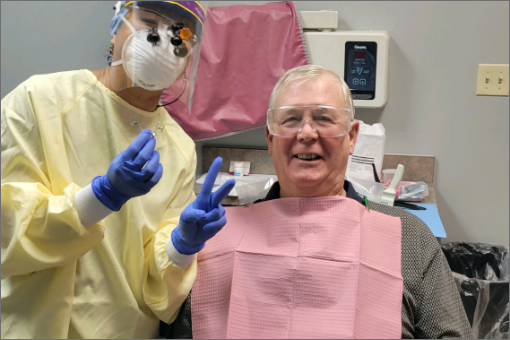 Thanks to you, our dental services are wide open to neighbors in need
You already know about Sulzbacher's services to homeless and hurting people — that we do more than just meet their most urgent and basic needs. We also try to get to the root of their issues, tackling the reasons behind their circumstances.

But there's another Sulzbacher service that spends every day getting to the root of people's problems: our dental clinics. . . .

Edward, a 72-year-old retired steel mill worker and Vietnam vet, certainly is grateful for these services. His retirement took quite a bite out of his income and benefits, including the loss of dental insurance. When he started having issues beyond the usual check-ups and cavities, he couldn't afford the more expensive procedures with his private dentist.

So he came to Sulzbacher in 2018 to look into our dental services. He qualified for reduced rates. "And I've been coming here ever since," Edward says.

He figures that over the years, he's received thousands of dollars' worth of services, pricey procedures he never could afford elsewhere. "So those things probably wouldn't have gotten done," he says.

Edward says the care he receives at Sulzbacher is as good as any he's ever had. "I'd never be able to find better care," he says. "And everybody there is real nice. It's just a great atmosphere there, and I feel comfortable that my dental work is being done well.

"I just can't say enough good things about it."

Edward's dental care is just one of MANY ways your support helps people in our community. Thank you!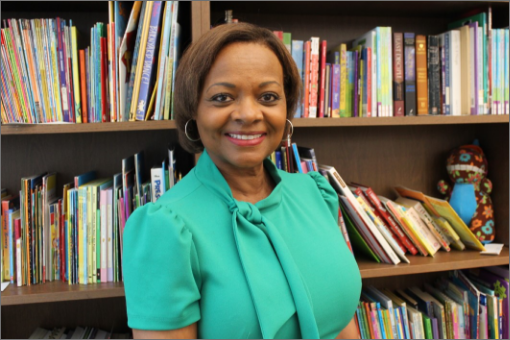 You and Wanda Willis share a vision for serving others.
Wanda Willis is a big believer in transformational change. That's why she says the Bold City Chapter of The Links, International is a great fit for Sulzbacher, which is all about transformational change.

The Links, founded in 1946, is one of the nation's oldest and largest volunteer service organizations, with more than 16,000 members. Willis is president of the Bold City Chapter, which has 45 members. The group averages about 625 volunteer hours per month, including many at Sulzbacher. . . .

"We focus on volunteering to make our community a better place to live, work and play," Willis says. "That's why we do what we do."

With a focus on women and children, Bold City members frequently volunteer at Sulzbacher Village, where they stocked a library of children's books. Among other projects, they spearheaded "The Power of the Purse," donating more than 50 purses — filled with personal care items — for women at the Village.

"Our work really aligns with Sulzbacher," Willis says. "We're providing opportunities for creating transformational change."

Such stories are made possible because of friends like you. Thank you!

To help more neighbors like Wanda, give now.